Here is the first post in our ingredient spotlight series.
Tamanu oil was chosen because it has been found to be effective in treating so many different conditions that it was simply intriguing. You may have heard it referred to by a number of other names including dilo oil, beauty leaf oil, Calophyllum inophyllum oil, kamani oil, foraha oil, and Alexandrian laurel oil. There are others, but I think you get the idea.
It originates from a small tree that grows mostly around the Indian Ocean and Madagascar but is also found root in Australia and has been planted on most continents.
The fruit of the tree which resembles a macadamia nut is cold-pressed to express oil from the nut within. The tree is also called a beauty leaf tree, Calophyllum, and Alexandrian tree, as you could have guessed from the names that reference the oil itself.
Tamanu oil has been used for many generations to correct hair and skin issues. The oil itself is a natural moisturizer and is said to boost the immune system, offer sun protection, soothe skin irritations from wounds and bug bites, promote cell regeneration, and has anti-inflammatory qualities as well as antibacterial properties.
According to Materia Aromatica individuals with skin disorders would bathe in water with tamanu foliage in it.
How does it do all these miraculous things?
According to Kari Thomas of naturalorganicskincare.com, 'the native name for this oil translates to " no pain,"' Some use the oil to soothe localized pain such as in sunburn or teething, however, I would recommend ensuring the child has no nut allergies before trying to use it for teething. The oil is even included in some products intended for relief from radiation burns related to cancer treatment.
Though many of the sources of its benefits are anecdotal and passed down from healers and considered cultural remedies, there are various medical sources that have studied the effectiveness as an aid to wound closure on mice and other studies used the oil on human keratinocyte cells. The mouse study found that the oil "reduced fibrosis formation and effectively promoted wound closure in mouse model" meaning the wound healed more quickly and less scar tissue formed. The study on human keratinocytes found wound healing, as well as anti-bacterial activity, was accelerated compared to controls. The CIO (calophyllum inophyllum oil) was confirmed for use in wound healing and as an anti-bacterial agent.
Concerning the healing activity, all the CIO tested accelerated in vitro wound closure, the healing factor being 1.3 to 2.1 higher compared to control when keratinocytes were incubated after scratch with CIO at 0.1%. … Using cell and bacteria cultures, we confirmed the pharmacological effects of CIO as wound healing and antimicrobial agent. Moreover, we showed that concentration of CIO needed to exhibit therapeutic effects are lower than concentrations exhibiting cytotoxic effects in vitro. For the first time, this study provides support for traditional uses of CIO. These wound healing and antibiotic properties make CIO a valuable candidate to treat infected wounds especially in tropical areas.

Léguillier, T., Lecsö-Bornet, M., Lémus, C., Rousseau-Ralliard, D., Lebouvier, N., Hnawia, E., Nour, M., Aalbersberg, W., Ghazi, K., Raharivelomanana, P., & Rat, P. (2015). The Wound Healing and Antibacterial Activity of Five Ethnomedical Calophyllum inophyllum Oils: An Alternative Therapeutic Strategy to Treat Infected Wounds. PloS one, 10(9), e0138602. https://doi.org/10.1371/journal.pone.0138602
The antibacterial action explains why it has been used to dress wounds. This is also what makes it valuable for those suffering from acne. Tamanu oil is effective against Bacillus cereus, Staphylococcus haemolyticus, Corynebacterium minitissimum, Staphyloccus epidermis, and Cutibacterium acnes (C. acnes, formally known as Propionibacterium acnes). C. acnes and S. epidermis are specifically associated with acne. Though there are some newer ideas that question whether these bacteria are simply common contaminants, the current accepted understanding is that these bacteria are not the cause of acne, but play a significant role. The bacteria are inflammatory mediators. They promote inflammatory cells such as lipases which break down fats, proteases, which break down proteins, and hyaluronate lyase which breaks down ground substance which is the gel component of your skin. When the lipases are overly active they convert sebum to free fatty acids which increases clumping bacteria in the sebaceous glands. Inhibiting the action of the bacteria is obviously a positive step in controlling acne.
Many times the products intended to control acne are overly zealous in trying to control the oil production as well. Inhibiting oil production has an immediate drying effect which starves the bacteria, however when the treatment is stopped, often the skin returns to over-producing oil and the cycle begins again.
This may be one reason tamanu oil is an effective acne treatment. It naturally contains not just the anti-bacteria properties, but is anti-inflammatory, and has moisturizing properties as well.
Eczema and psoriasis can be caused by many things including allergies, or food intolerance, and I recommend anyone suffering from chronic skin issues to find the source of the problem and not just treat symptoms. Sometimes an elimination diet is needed to determine a food allergy or stopping use of all scented products such as laundry detergents, fragrance oils, and harsh cleaning products. The symptoms are caused by when the lip barrier is compromised. Eczema and psoriasis can both cause this issue. Relief for the symptoms can be a matter of repairing the lipid barrier. As you can see by the diagram the normal action of the lipid barrier is to keep moisture in and repel irritants, bacteria, and pollutants.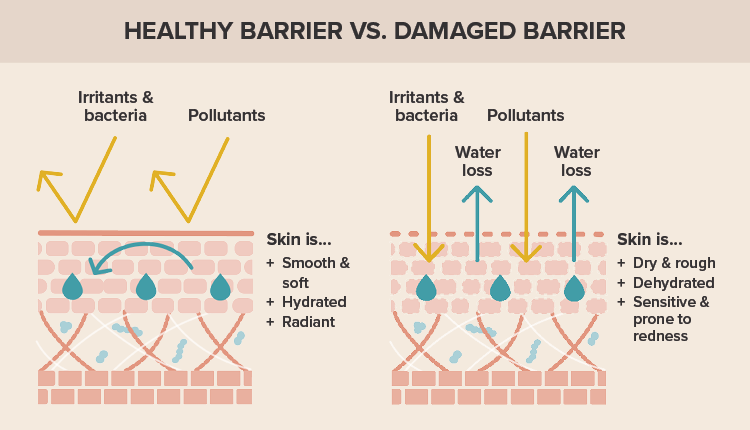 Oils rich in linoleic and oleic acid are effective in lipid barrier repair. According to Dr. Hannah Sivak, Tamanu oil has a typical fatty acid composition of 38% linoleic, 34% oleic, 13% stearic, and 12% palmitic, though others state that the percentage of oleic acid may sometimes be higher than linoleic. There is a range depending on growing conditions. A study in Phytotherapy Research evidence shows that a higher linoleic to oleic acid ratio is more effective for lipid barrier repair. This is likely because linoleic acid is an essential building block for ceramides which are one of the skin's main moisturizing elements.
The other important factor available in tamanu oil are phytosterols such as stigmasterol, and beta sitosterol. According to Nilankeeta of beautyglimpse.com
Tamanu oil also has a significant spf factor. Tamanu oil was investigated for its anti-UV properties in order to propose it as a potential natural UV filter for ophthalmic formulation. They found that the botanical oil displayed a significant capacity to absorb UV radiation, even at low concentrations (1/10,000, v/v), with a sun protection factor ranging from 18 to 22. It is not only considered safe for your skin, but for use in your sensitive eyes. I don't think I would put it directly into my eyes unless it was formulated for that purpose, but it does validate the SPF factor for use on your skin.

Whew! I feel like I just spewed a dermatology textbook. I hope you found this information interesting and not too esoteric. I found it quite interesting and am now a firm believer that the benefits of tamanu oil are worthy of its reputation. Here are a few useful videos on choosing and using oils for facial care.
https://www.naturallyhonestlabs.com/post/tamanu-oil
https://www.ncbi.nlm.nih.gov/pmc/articles/PMC4583440/
https://www.medicalnewstoday.com/articles/324205#side-effects
https://praznaturals.com/11-surprising-tamanu-oil-benefits-you-need-today/
https://www.naturallycurly.com/curlreading/ingredients/the-benefits-of-tamanu
https://www.healthline.com/health/tamanu-oil#purported-benefits
https://www.paulaschoice.com/ingredient-dictionary/skin-soothing/tamanu-oil.html?fdid=ingredient-dictionary&crefn1=name-first-letter&crefv1=T&csortb1=name&csortd1=1
https://ethnopharm.com/blog%2Fvideos/f/tamanu-calophyllum-inophyllum
Poljšak, N, Kreft, S, Kočevar Glavač, N. Vegetable butters and oils in skin wound healing: Scientific evidence for new opportunities in dermatology. Phytotherapy Research. 2020; 34: 254– 269. https://doi.org/10.1002/ptr.6524
https://www.skynmuse.com/blog/beauty-oils-around-the-world-2
https://www.ajol.info/index.php/ajb/article/view/15049
https://www.naturalorganicskincare.com/tamanu-oil/
https://medium.com/@info_28473/tamanu-calophyllum-inophyllum-a-secret-traditional-skincare-oil-from-madagascar-with-important-97dd4ed9371f
https://materiaaromatica.com/oil-profiles/tamanu-1
https://dermnetnz.org/topics/bacteria-in-acne/
https://www.beginswithskin.com/linoleic
https://www.purefiji.com/blog/beauty-tips-dilo-oil/
https://www.healthbenefitstimes.com/alexandrian-laurel/
https://www.stillpointaromatics.com/foraha-tamanu-organic-oil http://superfoodjournal.com/tamanu-oil/ https://en.lanbelle.com/_recommendation/story-of-tamanu/ https://www.botanical-dermatology-database.info/BotDermFolder/GUTT.html#R345 https://www.paulaschoice-eu.com/your-skins-barrier-why-its-such-a-big-deal
http://www.plantsoftheworldonline.org/taxon/urn:lsid:ipni.org:names:427190-1
https://www.tamanuoillab.com/2017/02/how-tamanu-oil-is-made-2/
https://www.ocl-journal.org/articles/ocl/full_html/2018/05/ocl180019/ocl180019.html
https://www.mdedge.com/dermatology/article/77106/wounds/tamanu-oil?sso=true
https://pubmed.ncbi.nlm.nih.gov/17188472/
https://journals.plos.org/plosone/article?id=10.1371/journal.pone.0185674
https://www.mindbodygreen.com/articles/tamanu-oil-guide
https://www.botanical-dermatology-database.info/BotDermFolder/GUTT.html#R345
Please follow and like us: